Contact
THISSIO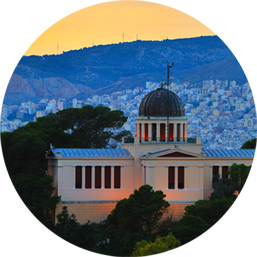 GEODYNAMIC INSTITUTE, Νational Observatory of Athens
The Geodynamic Institute is located in the central premises of the National Observatory of Athens, at Nymph's Hill in Thissio. Nymph Hill adjoins Philopappos Hill and is opposite the Acropolis and the Ancient Agora.
Hill of the Nymphs - Thiseio, P.O. box 20048, 11810 Athens, Greece
Phone No. +30 2103490195, Fax. +30 2103490180
eoik@noa.gr
Access
Access
You can use the Electric Railway (ISAP), which is part of the Athens Metro system, to visit the GI at ΝΟΑ headquarters.
The nearest ISAP station is Thissio station, from where a 10-minute uphill walk will bring you to the Hill of the Nymphs, where the institute is.
There is free parking outside the headquarters.
When driving, please remember to use Pnykos street (uphill circulation) when arriving and Otryneon street (downhill circulation) when leaving, and note that only a small length of Apostolou Pavlou street is open to vehicles.